It doesn't take much to turn around a bedroom that you feel you don't have the energy or funds to fully tackle. Simple bedding (white is always a winner) goes a long way to freshen things up, and a nicely styled nightstand picks up where linens leave off. Here are some fresh ideas for sprucing up your nightstand, pulled from our House Tours.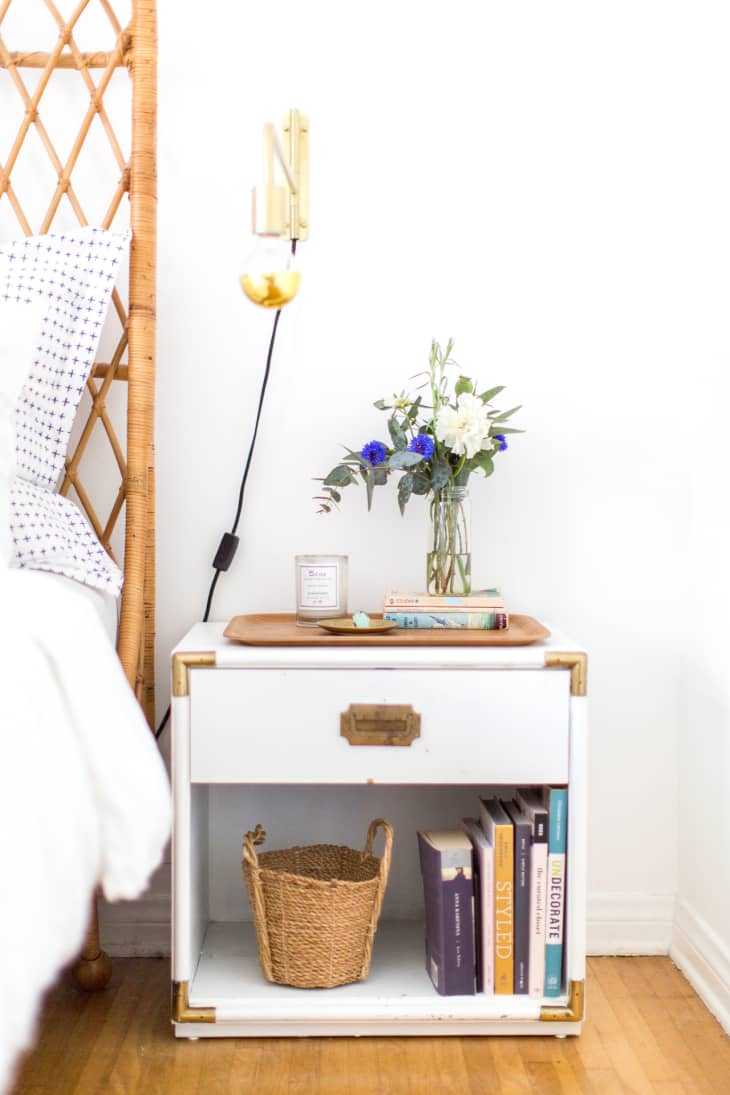 Never underestimate the decorating power of fresh-cut flowers
As noted in this past post about the benefits of fresh cuts, "living with flowers can provide a boost of energy, happiness and enthusiasm." We believe it! They might also help you keep a tidier room, but beyond that, they're an instant sprinkling of style, color and texture. Fresh flowers are hard to beat.
Use trays and bowls to collect odds and ends
We're firm believers that trays are capable to turning most rooms and surfaces around. They're perfect on a nightstand to collect all your little random bits like books, boxes, bowls and beyond.
Try a unique light fixture (& a plant!)
Technically, the cage light here is used as a pendant (and could easily be hung on the wall as a sconce), but its owner chose to use it more as a decorative item, which we think is a great look. Another winning touch? A potted plant (though careful with prickly cacti!).
Perfectly poised
A neat stack of books and magazines, a stately lamp and a decor object or two is all you need to create a designer-worthy tableau in your slumber space.
Pack it in
Not everyone likes minimal styling! If you have a larger piece like a desk or console table as a nightstand and you like a full look, use the opportunity to pack.it.in. Picture frames galore, books, candles, plants, decorative objects…the more the merrier.
Keep things simple (& add art!)
You don't need much on your nightstand to add some style to your bedroom. If you like to keep it simple, all you'll need is a light (or another taller element), a little catch-all dish (for rings, glasses, or whatnot), and…to keep it interesting, a little piece of art.
Opt for a wall sconce for more surface area
A traditional nightstand is a pretty small furnishing with not much room to play around with in terms of surface area. While most people prefer some sort of light near their bed, don't forget that, to open up some space, you can always opt for a sconce instead of a table lamp. (If you're a renter and can't hardwire, see some of our favorite plug-in options. )
Like some of these ideas but need help making it happen? Check out this post where we break it down for you: Make It Beautiful: Our Formula For Styling the Nightstand of Your Dreams