Late last year, popular designer, Emily Henderson, mentioned that she's over brass finishes and digging chrome lately . This from the gal whose blog used to be called "The Brass Petal"? That's a major departure for her, but she might have a point. I'm glad design is past the love affair it had with brushed nickel in the early 2000s, and while I personally still love a little gold glitz, I feel like I can maybe get down with shiny silver chrome, too.
I know what you're thinking — isn't chrome kinda bad '80s? Well, you're not wrong. But just like mauve stands a chance to be modern in the right context, so does chrome, and I'm going to prove it to you with these interiors below.
Above: An effortless way to bring the shiny finish into your home without feeling overly Liberace or full blown Z Gallerie is to incorporate it in the frames of accent furniture like chairs and side tables. Concrete block walls and an earthy rug are balanced nicely with the glitz of chrome in this room via Sight Unseen .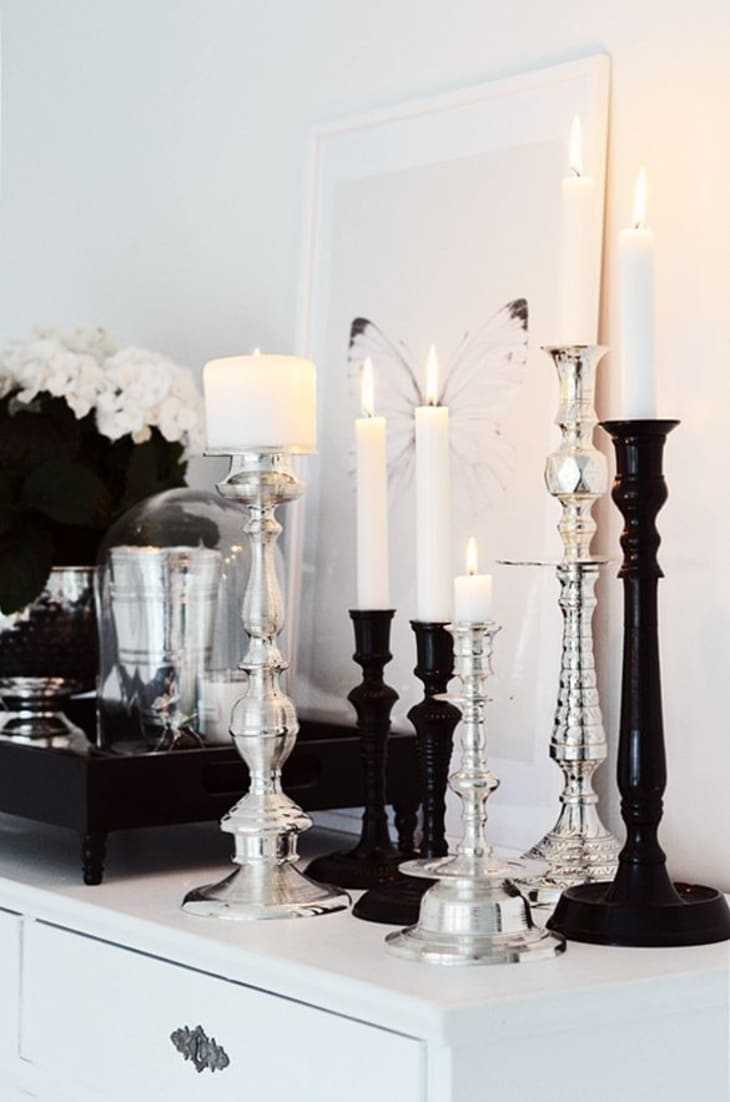 Chrome can lean a little cold, but mixed in with black and white finishes, it actually has a warm feeling on this mantel spotted on The Decorista . That also might have something to do with the candlesticks' silhouettes, which are a little more traditional in shape.
Small touches make a big difference in a bathroom, and chrome really looks great in this renovated space from Love Create Celebrate . The tub faucet, vanity hardware and other silver touches throughout bring the vintage-look subway tiles and black hex into the present.
Is there anything more over-the-top glam than a chrome canopy bed ? And while you might think these should be left to Vegas hotel rooms, one look at this rather traditional bedroom from Architectural Digest could change your mind. It's also surprising how gender neutral this look can be with the right bedding. Here, the vibe is chic and sophisticated, not princess-y. And, I think, the polished silver is really key for having a statement piece like a four-poster bed not look too granny. The look would be totally different in a dark shiny wood, for example.
This dining nook from AD Espana shows how great delicate chrome-framed chairs look with antique brass lighting and vases. Mix and match for the win!
Ready to give chrome a chance? Scroll through 10 stylish shiny additions for your home: