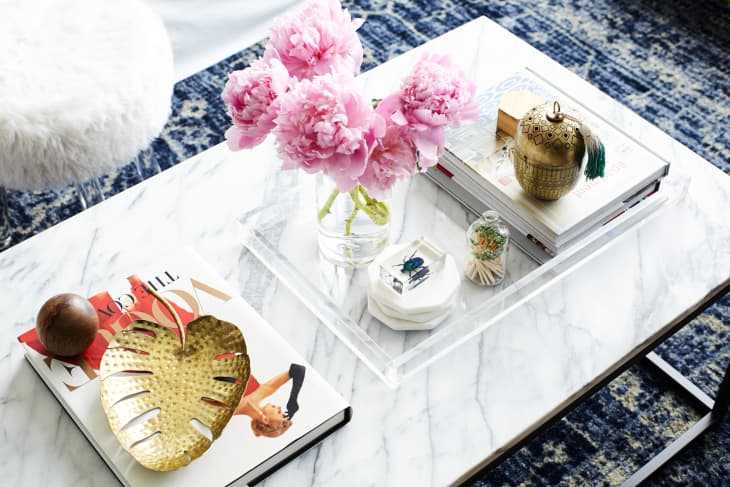 Create Varying Heights
While a coffee table is by nature low—the right height to set your drink (and perhaps your feet) without blocking the television—an attractive coffee table display will have subtly varying heights (as well as properly organized zones for decor and useful items like remotes and coasters).
→ Make It Beautiful: How To Style the Perfect Coffee Table
Use Trays to Organize & Beautify an Entry Table
The key to handling disparate, not-particularly-attractive elements is corral, corral, corral. Any tray is better than having your accessories strewn about, but a gorgeous tray does the job and so much more.
→ Make It Beautiful: How To Style the Perfect Entry Table
Add Color & (Lemon) Zest
When you're styling a home bar—or any other space, really—find a way to add a bit of fun and a dash of color. For bars, the natural choices are lemons, limes, drink stirrers, cocktail picks, straws, drink umbrellas, and/or cocktail napkins.
→ Pop, Fizz, Clink: You're 5 Simple Steps Away From a Perfectly Styled Bar
A Pretty Bowl Holds Everything
The moment before sleep is when many of us jettison jewelry, eyeglasses, earbuds, and ponytail holders, and a bowl holds them all safely until morning. Plus, any excuse to buy a sweet bowl from the Japanese dollar store. Styling tip: place it atop a stack of books to an easily polished vignette.
→ Make It Beautiful: Our Formula For Styling the Nightstand of Your Dreams
Turn Necessary Storage into a Lovely Display
In small spaces, storing every little thing can prove to be a challenge, so focus your efforts on hiding away unattractive-yet-necessary items and keep your favorite (and prettiest) possessions out where they can be appreciated.
→ How to Love Your Tiny Rental Bathroom: Styling Ideas from 10 Real Homes
Every Room Needs a Little Sparkle
The editor of House Beautiful recommends adding a bit of luminosity to each room. That doesn't mean installing a disco ball or coating your walls in glitter paint—though, no judgement if you do!—but rather being conscious of materials such as mirrors, chrome, brass, gold leaf, faux mercury glass, and so on.
→ 4 Styling Secrets from House Beautiful 's Editor in Chief
Let Your Furniture Breathe
This is a design tip from Apartment Therapy Senior Writer Nancy Mitchell I never would of thought of but instantly recognized the rightness of:
"Another trick I often employ is taking furniture pieces and moving them just slightly farther away from one another. Try it! Even a few inches can make a big difference. If you have the space, giving your furniture a little extra room to breathe can give your space a lighter, airier, feel. Another trick? Pulling furniture just a few inches away from the wall."
→ How To Make Your Home Look 10 Times Better in 10 Minutes Or Less
Be Aware of the Principle of Thirds
Our Design Master Class learned this lesson via designer Dabito's fabulous mantel:
"Not to get all design school on you, but in art and photography, there's something called the principle of thirds, which basically says the most interesting, eye pleasing compositions happen when you place important elements at the intersection of the vertical and horizontal thirds of your canvas or frame. If you think of every tableau, shelfie or furniture tabletop in this way, this can help you create more dynamic displays."
→ Design Master Class: How to Style Your Home Like a Pro
Celebrate Contradictions
A "boho living room" brings to mind an infinite quantity of textiles, tapestries, textures, and colors, all layered with a free-spirited joie de vivre. But a room can be boho and minimal, industrial and playful, cozy and ultra-modern. Embrace all sides of your home and yourself.
→ The Most Bohemian Casual Living Rooms of All Time Are in This Country
Don't Forget to Have Fun
It can be easy to get swept up in the ultra-refined, oh-so-sophisticated homes we see in design magazines and upper-crust home tours, we should allow ourselves to be a bit whimsical, free, even silly when it comes to our own homes. But only if that sounds fun to you!
→ Effortless, Elegant Styling Secrets from a Magazine Editor's Home
What was your favorite design advice of 2017? What tip or trick changed your home for the better?