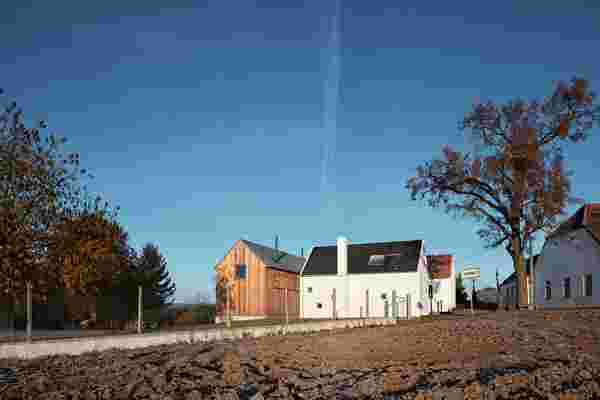 At the site of an original farmhouse from the late 19th century, a new fruit distillery by ADR that seamlessly blends in with the old. Here in the village of Javornice in southern Bohemia, an added shop, fruit store, refrigerated fermentation plant, customs warehouse basement, wood house, garage and accommodations for family members and guests take the place of a former pub with dance hall, traditional stables and barn.
Only the basic materials and some main supporting walls of the original buildings were preserved. The new fermentation building and accommodations in the attic were built in addition to a wood house with a garage in the place of the fallen barn. The distillery itself is a completely new and detached building (though you wouldn't know it from afar) which creates a partially enclosed and protected courtyard between the other buildings.
Designed with an effort to preserve most of the original architectural features of the buildings, new materials, however contemporary, were chosen with respect to the original. For example, the original roofs have red roof tiles while all the new buildings have the same material in black.
Proposal of the buildings, the facades and shape of the roof, were significantly influenced by the immediate environment resulting in traditional solutions in terms of both shape and material. Most of the facades have a classical lime plaster while wooden supporting structure are lined with wooden planks. Only the distillery itself has surface of solid bricks painted white to accent of significance of the building.
Courtyard areas and other outdoor spaces around the building are paved with natural stone consisting mostly of granite.
Designer: ADR