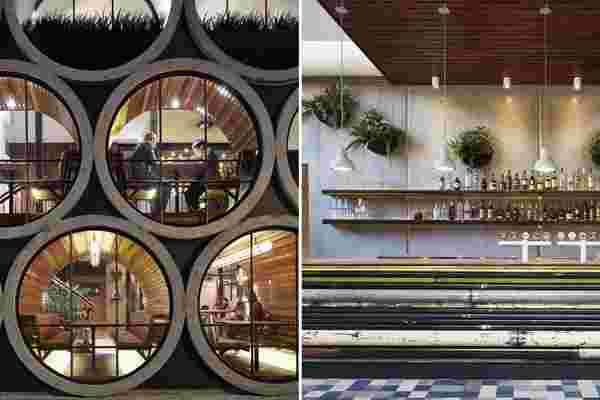 I love architecture that repurposes material and breathes new life into them. While shipping containers are the most popular for that style of work, Australian group Techné Architects are applying that creativity to drainage pipes! Prahran Hotel's pub in Melbourne was renovated this year from a small back area into a playful and innovative hangout spot using more than 40 tons of concrete tubes to create the cool extended façade.
Techné Architects envisioned a space that was visually connected, interactive and dramatic – something we all could use to get over the pandemic and resume our social lives. The structure uses 17 1/2 culvert pipes on the facade and inside as well which are turned into intimate booths – in fact, one special pipe serves as a VIP booth for 10 people! The booths are finished with soft leather upholstery and lined with recycled spotted gum slats and acoustic absorption mats. The main bar is crafted from salvaged pipes and concrete cast lamps. Techné's inclusion of sustainable elements don't end there, they also used recycled pipes to create a colorful bar and planted a Chinese elm in the open, tiled courtyard to stay aligned with the original goal of making sure that the space is visually connected. "Inside you are climbing over the pipes, sitting in them, or on them at various levels. They have a lasting impact on the space," says Architect Justin Northrop.
For a passerby, the stacked pipes will look like a wall of kegs (fitting given that it is a pub) and are closed with glass windows which allow for plenty of natural light and views. Guests can play around and find their favorite spot anywhere in the three levels of the hotel, there are several carefully designed cozy nooks and group seating options. You can also sit outdoors in the courtyard and admire the corrugated concrete wall, porthole windows, and beautiful wall hangings by Ayus Botanical. The daylight from the courtyard and from the large circular pipe windows fill up every corner and make it a welcoming space, unlike the typical dingy, dark pub. Crawling into a pipe never sounded better!
Designer: Techné Architects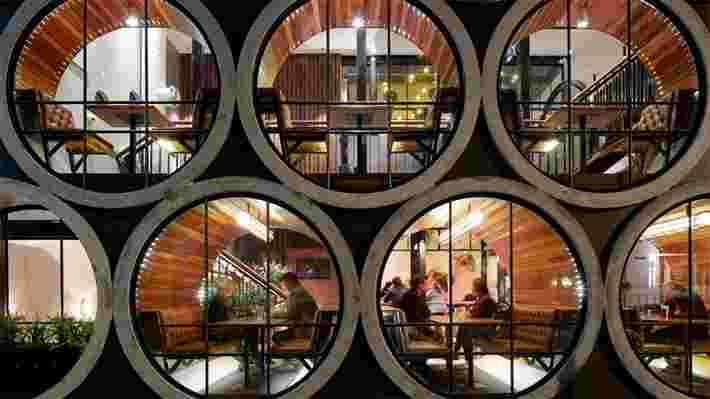 LEED Platinum Certified in Los Angeles
Cherokee Studios by REthink Development is a new soon to be completed project in Los Angeles boasting LEED Platinum certification. Huge Kudos to REthink since this is only 1 of 12 buildings in California to achieve that rating. The building won't be completed until September '09 but I'm so giddy with excitement that I think REthink and whomever the land owners are should just let me move in. Better yet, lets open the Yanko Design Los Angeles branch in the building!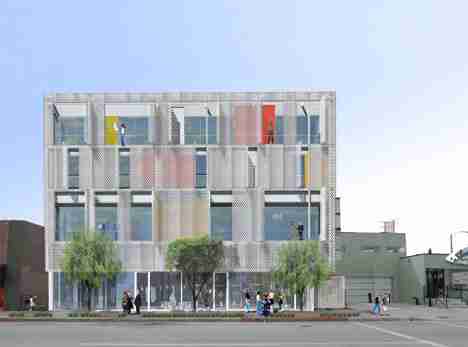 The live/work units let you live the Hollywood life while staying best friends with mother nature. When we talk about standard of living, we need to re-examine what that means. For me, that means better indoor air quality, better ventilation, more controlled natural/artificial light, less toxins, and a place to escape to like a roof deck. This building has it all. Details, details!
Cherokee Studios will consist of 12 condo lofts and 2800 sqft. of retail space. The 5 story building includes an underground parking garage and a rooftop "green" deck. The lofts will range in size from 1,000 – 2,000 sqft. with unique and distinctive floor plans. The living space consists of a state of the art kitchen, great room, bathroom, and home recording studio or office. Three of the lofts will have 17 foot high ceilings with mezzanines – open to a lushly landscaped courtyard. All lofts will have 2 – 3 bathrooms and 1 – 4 bedrooms. Interiors including kitchens, baths, and finishes will all be 'eco-luxury' with high end appointments that have simple and modern lines while being environmentally friendly. 20kW of the building's power comes from solar energy. On top of that nearly 50% of the building's total power will come from renewable energy.
Perhaps one of the things I really dislike about living in L.A. is the blazing sunlight. It's nice to have when you want it but terrible when the heat wave is on and all you can do is cower in a shaded corner. The unique architecture has a dynamic facade that not only looks good from the street but provides utilitarian function by shading the interior, reducing noise, and enhancing privacy without blocking views.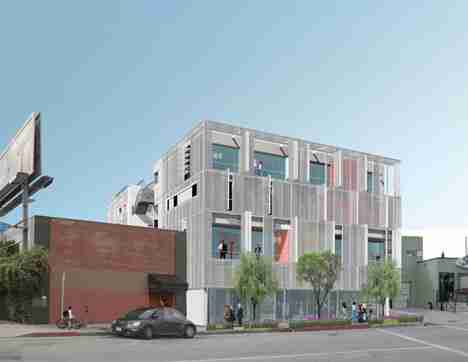 The kitchen cabinets are all made from formaldehyde-free materials studded with Energy Star Bosch appliances (swoon!), Bertazzoni ranges and one of those snazzy drawer microwaves. Even the countertops are made from recycled content.
My favorite room, the bathroom is decked out; Hans Grohe fixtures, the same eco-friendly countertops, floating vanities, recycled tile, and one of those fancy Japanese Toto Aquia toilets.
There's so much more to cover so I'm going to try and sneak in somehow, maybe score an interview with the developers and obtain more pictures. Stay tuned, errr – I mean online.
Over 40% better than California's strict Title 24 2005 Energy Efficiency standards
20 kW solar electric array
Astounding views
Dynamic double façade creates shade and buffers street noise while enabling ventilation
Electric car charging for every unit
Reclaimed Black Forest Walnut from Studio One reused
Walkable neighborhood scores "Walker's Paradise" (95 out of 100) on walkscoreom
Extensive bike storage
Dynamic double façade creates shade and buffers street noise while enabling ventilation
Formaldehyde-free cabinets and flooring
High efficiency air filtration
Low and zero VOC paints and finishes
High efficiency tankless water heaters
High-tech, high efficiency Variable Refrigerant Flow Heating and Cooling System
Designed to optimize natural ventilation
Abundant natural daylight
Efficient lighting including strategic use of LED lighting
Green, living roof and cool roof
Upgraded glass enhances thermal and sound insulation
High recycled content and locally produced products
Forest Stewardship Council certified wood (50% of all wood products)
Reduced landfill waste by over 75%
Reduced stormwater runoff through groundbreaking under-sidewalk infiltration system
Drought resistant landscaping
Energy Star appliances
Dual flush Toto Aquia II toilets
Water efficient fixtures
Design for durability
Double walls between units for sound isolation
Designer: Pugh + Scarpa and REthink Development
From Noodles To Steamed Cakes
I'm always impressed when a designer transforms an existing structure into something new and exciting without obliterating its character. Such is the case with this old Japanese noodle shop converted into a modern steamed cake house for a modest budget of $30,000 US dollars. The original architectural details are intact but it's amazing what light, paint, flooring, and an expert command of minimalist sensibilities can do. I absolutely love the unfinished woods and how it juxtaposes the stark walls. The result are steamed cakes worthy of art display.
Designer: Kazutoyo Yamamoto / Dessence co.ltd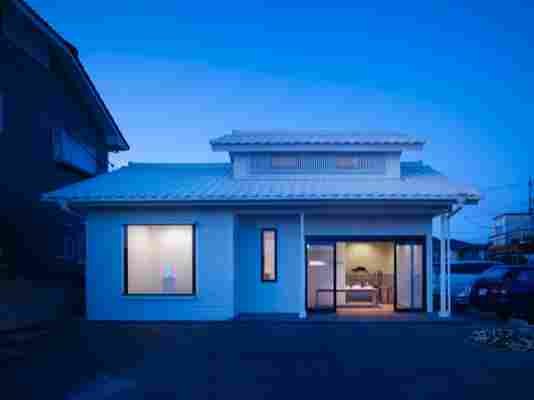 (adsbygoogle = window.adsbygoogle || []).push({});
(adsbygoogle = window.adsbygoogle || []).push({});